Our company offers, IT Virtualization consulting services for customers seeking to interconnect their on-premise environment to AWS/Azure/Office 365 Network.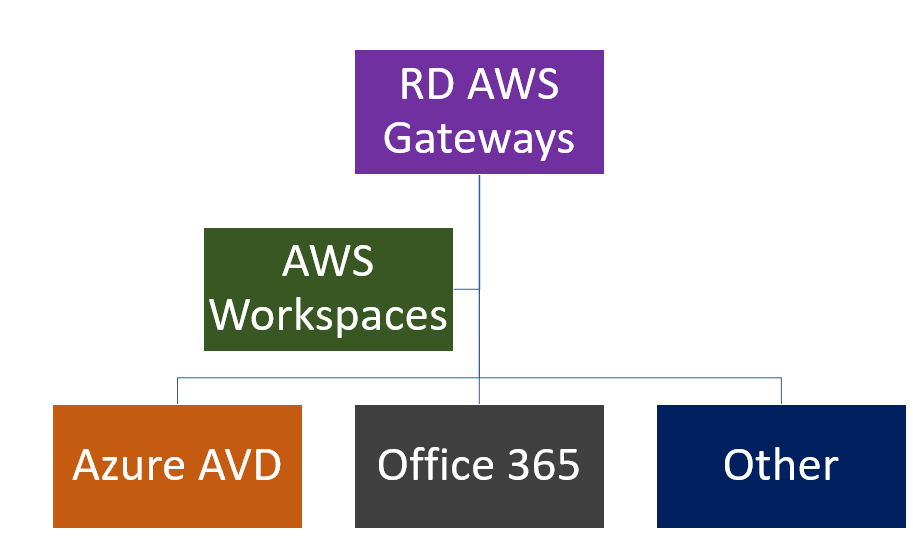 Our company works with different types of server virtualization solutions, ranging from AWS RD Gateway Implementation solution, AWS Workspaces, Azure and Office 365.
What type of Desktop Virtualization Solutions Our Company Offers?
Our company DBA Binary Fusion, subsidiary of Alpha Technologies, can help you integrate your existing application connectivity needs with desktop virtualization technology.  Helping critical business applications get connected to your remote employees.
VPN - On Premise to AWS
AWS Workspaces
AWS RD Gateway
Azure AVD/Office 365
VPN - On Premise to AWS
Site To Site Tunneling consulting connectivity from your on-premise environment to AWS. Types of Connectivity we can help customers accomplish.
Routed Based DMVPN to AWS
Routed Based through BGP between on premise vendors.  
Policy based site to site IPSEC routing.
OpenVPN 
Strongswan
Dockerized VPN
AWS Workspaces
AWS RD Gateway
Azure AVD/Office 365
Challenging Types of AWS environments that we can help you navigate
AWS Environments with existing VPCs
If you already have your environment setup, and happen to have bunch of EC2 instances  hosting all sorts of applications, but not sure what changes to make and how to make them while providing capability for users to connect remotely, then worry no more, with our help we can evaluate your existing environment and provide concrete recommendations for what to change, when to change it, and how to do it with minimum impact.
Our goal is to help your employees and consultants, get together in order to improve productivity, connectivity and security of your environment.
Identifying what Virtualization Technologies and Clouds to use while maintaining connectivity to existing networks, is not exactly a walk in the park.
Let us connect you up to 100% with our Virtualization Solutions
On premise to AWS using AWS Workspaces
Our company offers the following services.
Creation of Virtual Private Gateways in AWS cloud.
Creation of ACM certificates.
Creation of Simple AD, or integrating with your existing AD.
Maintaining and building your AWS Workspace images.
Distributing AWS Workspace clients to the users.
Monitoring AWS Workspace usage.
Modifying Security Groups to allow access.
Assisting your employees with AWS Workspace installation, troubleshooting.
Level 2 Support
Level 3 Support Engineering and Architecting your environment.
Integrating your environment with your existing networks, DNS, Proxies, Load Balancers, Kubernetes clusters.
Testing your environment and a lot more.
Virtualization Troubleshooting
Here is what we help customers with when it comes to making any of these virtualization solutions or  VPN tunneling technique work for your environment.
When Troubleshooting AWS Workspaces
We Verify if users have TCP and UDP connectivity.
We verify entire Layer 1 through Layer 7 connectivity.
We obtain Elastic IP Addresses and ensure that these IP addresses are allowed proper access.
We debugging connectivity issues with ISP in the event session drops.
We run Traceroutes, gather packet captures.
We test out applications when logged into Workspaces.
We troubleshoot MFA related issues.
What was just  described is a partial list, 
AWS Desktop Virtualization Management Servcies
Managing desktop virtualization in AWS without getting lost is like trying to solve a murder mystery.
Here are the services that we offer from AWS perspective.
Design of your entire Virtual Architecture.
Creation of EC2 instances with correct software installed.
Creation of auto scaling groups, creation of AWS Workspaces architecture and integrations between AWS Workspaces and your existing EC2 servers.
Creation of VPCs and associated EC2 instances with appropriate AMIs to run your vendors firewalls in the cloud.  (this is for cloud to cloud security)
Creation of site to site VPN connections, leveraging either routed based VPN approach or policy based VPN approach. (this is for interconnecting your other offices)
Configuration and management of your AWS routing. (this is so everything is managed centrally and every node can get to the other node)
Security group management.  (this is to ensure security)
Permission management. (this is to ensure that only right people get access to environment)
Cloudwatch configuration for metrics and logs. (this is to visualize your AWS environment health status)
Transit Gateway VPN configuration.  (this is to reduce mesh peering between VPCs and centralized the connectivity across transit gateways)
Virtual Private Gateway setup for small and medium offices.  (this is a cloud native AWS VPN option to connect to other on premise sites or offices)
Certificate ACM building, helping you create certificate authority and making certificate based authentication work.  (this is so your security up to date, and your users don't get warning with certs)
When many of our customers reach out to us, rarely does every customer know all the associated costs with the solution, simply because there are many factors associated with creating Desktop Virtualization solutions and building VPN tunnels and making them work with the cloud.  
As part of our solution offering, we help customers pick the most optimal cost-effective options for their connectivity needs, and part of the engagement conduct Network Assessment, making sure that whatever existing infrastructure that you already invested is factored into the solution, helping customers save money.
AWS Cost Analysis for having site to site VPN or any type of VPN solution
As part of the solution, we help customers analyze licensing costs for AWS Workspaces or Azure AVD or Office 365 or Virtual Private Gateways or Transit Gateways in AWS helping customers make informative decisions about the cost factor prior to engaging with the solution.
We also help with AWS licensing cost analysis for ACM certificate management solutions for any EC instances that you may have that require careful tracking.
For every location we recommend customers to use multiple types of solutions and VPN tunnels for redundancy, each tunnel has a cost factor associated with it.
In fact we tell many customers to use multi cloud based redundancy setups, simply because we seen entire cloud going down.
For example to some customers we recommend using AWS Workspaces, while in parallel for resiliency recommend customers setup docker containerized VPN tunnels across Kubernetes/DockerSwarm clusters, using something like Strongswan.
For others we recommend something as simple as OpenVPN solution or WireGuard to connect from on premise to cloud instances.
Docker Virtualized VPN Gateway Instances
Docker Virtualized VPN Gateway Instances
Additionally, we help customers get connected using docker instances.  Some of our customers have compliance requirements where every tunnel must be separated in a form of a distinct channel.  Where multiple sites or IoT need to connect to a multi cloud network, spanning across different clouds.
To do that we recommend customers virtualize tunnels within dedicated docker instances and run these tunnels across Kubernetes clusters or other types of clusters spanning across different clouds.
Doing this approach makes VPN solution scalable, and at the same time distinct.  This approach does have advantage of relying on distinct multi cloud based architecture, not dependent to the principles of single cloud provider.
Using for example combination of multi docker based approach plus AWS Workspaces can provided companies high level of resilience, using distinct types of architectures, minimizing business disruption possibility.
With Dockerized Virtualized approach you are not exactly virtualizing the Desktops, but rather virtualizing the VPN channels, where each channel provides access to applications directly on your cloud networks. 
The Dockerized use case can be very good one to execute for IoT tin the field type of applications, that require secured connectivity to cloud.
Docker VPN virtualization using Infrastructure as a Code
With Docker based VPN Infrastructure as a code comes to play
Whether you are a start up or a medium size companies or a large size company, you may have heard of Infrastructure as a code concept. 
Setting up docker containers with VPNs running inside of them across different clouds and executing changes in each of these tunnels, maybe difficult thing to do without relying on some type of CI/CD pipeline.
Our company can help you scale your existing connectivity whether it's from on site offices or from mobile devices, or from IoT devices in the field.
We have created CI/CD pipelines in the past that can help us orchestrate complex VPN tunneling connectivity needs across multiple geographic regions running across multiple cellular networks, helping customers maintain connectivity to their IoT devices or offices.
Bringing together multiple in office or remote users, Endpoints, or IoT devices in order to satisfy your company's business case is precisely what we can help you with.  
Desktop Virtualization technique is only one part of the puzzle.  Many of our customers have many different integration needs and puzzles to solve, including network & desktop virtualization needs.
Imagine bridging desktop virtualization technology with other facets of your business connectivity needs in order to improve security, connectivity and visibility.
Imagine running less risky network.
Imagine having less headaches with integration puzzles.
You do not need to imagine anymore, contact us to help you with your use case.  Helping you take your connectivity needs under control, while minimizing costs.
When purchasing any type of desktop virtualized solutions, equipment or software relevant to firewalls, or VPN termination devices there are always licensing fees.    
We can help you analyze these licensing fees and pick the right partner for your connectivity needs.  
It doesn't matter with which vendor you are dealing with, we are vendor agnostic. 
Some vendors may be better than others when it comes to individual solution needs.   
Our role is to recommend the best vendor to help you save money
Regardless if you are looking for firewall in the cloud solution, Desktop Virtualization or Zero Trust type of solution, we can help you integrate it.
Our Alpha Technologies team don't speak the vendor language, but rather speak the protocol language.  
Think of it this way, every vendor who builds some type of solution is relying on some type of protocol to make the solution work.
Our company has specialized IT Network & Security Consultants who are well versed with both on-premise and cloud types of Network and Desktop architectures, regardless if it's AWS, Azure, Google.
Why use Virtualization Connectivity solution?
Connecting over high latency networks can be problematic for some business applications.
Many small businesses rely on VPN to connect to some of their in cloud or on premise applications.  However, some applications such as Quickbooks for example doesn't behave well when it comes to using VPN to connect to a Quickbooks server. 
Mainly due to CIFS SMB protocol being too chatty and Quickbooks application not being able to pass multi access traffic from client to server.
OpenVPN over port 443 or IPSEC does not solve the problem either.  Quickbooks company file can become corrupt when accessing over VPN.  
What about Integrating Virtualized solution with other parts of the network?
We realize that customers run many different applications that may already exist in the cloud and that may require additional integrations in such a way that for example AWS Workspace or RD Gateway solution makes it possible for application servers to communicate with Active Directory, while allowing users to leverage Multi Factor Authentication when connecting through AWS Workspaces.
Which is precisely the reason why we created this service.  Navigating across complex heterogenous networks that makes it possible for customers to connect with one another, while bridging the boundaries of remote employees and in office employees is not exactly a walk in the park.
Any wrong move and you are at risk of either exposing the wrong port to the internet or increasing risk without even knowing it.
Luckily our company is not just an infrastructure integration company, but also security eccentric type of company helping your network stay secured and connected.

Use Virtualization Technique to solve Quickbooks problem
AWS | Azure AVD or Office 365 or Citrix
The answer to solving the problem with Quickbooks or any type of non CIFS/SMB  friendly application is to use some type of virtualization technique that can help your client application be closer to the server application. 
The idea is to place the Quickbooks client on the same subnet as the Quickbooks server.  To do that you will need to construct either AWS Workspaces or AWS Remote Desktop Gateway topology within your AWS environment. 
Where users technically will have AWS Workspace client and can connect to AWS Workspace jump box server, with Quickbooks client installed.  Then from that Quickbooks jump box server within the virtualized desktop be able to open Quickbooks server and view company's file. 
Alpha Technologies can help you construct such type of AWS solution, alternatively we can help you do this is Microsoft Native environment such as with the help of Azure AVD or Office 365.
Typical Example of what our customers ask us to do
Quickbooks remote users need to connect to open up Quickbooks app
We get some customers who reach out to us and ask us to figure out how to connect their CIFS/SMB applications such as Quickbooks to their remote employees.
Problems that we instantly see with customers is the fact that solutions that rely on VPN do not exactly work with the Quickbooks.
To solve this problem, we advised the customer to bring the data closer to their Quickbooks Server.
In  this case we explored several solutions initially we tried Sophos Firewalls with site to site IPSEC VPN tunnels from office where users were residing to AWS using routed VPN tunnels.
That approach worked for some applications, but only was relevant for in office users and not exactly for out of office users, and this approach wasn't working with Quickbooks.
In simple words, users were able to open up file shares, but Quickbooks was too sensitive to limitations of CIFS protocol being too chatty, as a result of that chattiness, Quickbooks file simply couldn't be opened.
Traditional IPSEC VPN tunnels didn't do the trick.
Then we tried OpenVPN which basically uses port 443, slightly similar concept,  and although this helped remote users to connect to all sorts of other applications that customers had in AWS cloud, Quickbooks application still had the issue.
At this point we knew that unless we make Quickbooks client reside on the same network as Quickbooks server, our chances of success would be slim to none.
Customer was happy with his OpenVPN solution since it did provide alternative method of architecture for his remote work from home users and in office users as oppose to using Sophos, but not happy about not being able to open up Quickbooks.
Explaining limitations of CIFS protocol to typical customer, is not exactly easy thing to do.  In customer's mind they think application should be able to open regardless where it sits.
Several approaches were researched to address customers problem, these approaches included AWS RD Gateway and AWS Workspaces.
Upon trying to use AWS Workspace to connect to existing EC 2 Quickbooks server instance, surprise, surprise, even with AWS workspaces access to the Quickbooks server wasn't possible to achieve. 
We did end up using other type of solution with RD Gateway to achieve it, with specialized load balancers and auto scaling groups.
We also helped customer integrate Simple AD with his users.
Whatever the case is for every problem there is a unique solution.
Whatever the case is for every problem there is a unique solution.
In the case of this situation perhaps easier solution could have been to add Quickbooks Server on the same subnet as Workspace client…. but customer wasn't willing to do that… and preferred another approach instead. 
At the end of the day, customer was happy with all approaches that we iterated through. 
This type of engagement just shows you how many different POCs and iterations we go through.
For something that we have done before we can gladly do POC for your company, before engaging into actual solution to help you gain degree of confidence.
However, if it's something new completely new and application is home brewed or highly sophisticated and running on incompatible with network  protocol such as SMB/CIFS, that POC will not exactly be free of charge. 
For the simple reason of complexity and different variables as what you just seen in this use case.
If you have an existing start up company or small company or medium size company and seeking to construct some type of solution to help your business connect. Then don't hesitate to reach out to us for your assessment, customized presentation, demo and POC free of charge prior to engaging with us.If POC is outside of our comfort zone, then there will be fee associated with that, depending on the level of complexity and research that would need to do.
Additional Services for Identity Validation and Network Monitoring
In addition to offering Desktop-Network and Application  Virtualization services our  company also offers multi factor level of validation across either certificates or other validation characteristics helping your networks stay secure.
We also can help companies visualize their entire environment in tools like New Relic,DataDog, LogicMonitor, SumoLogic, AppDynamics, Zenoss or Splunk, Solar Winds. 
For more info visit our monitoring services.
Well with so many imaginative points... described above, you do not have to imagine anymore.
Simply reach out to our DBA Binary Fusion company tell us your use case and we'll hit the ground running supplementing your existing IT Staff with super charged monitoring and cyber security expertise, that can help your organization reduce risk and best of all tackle complicated tasks that otherwise would not be possible to tackle without a strong IT Security and Network/Application monitoring expertise.
When contacting us, simply let us know the use case you are working on, what you are trying to integrate, what you need monitored, how you are trying to integrate, what tools you already invested and need help with.  Or simply describe the challenge you are facing.  Our company is very agile and flexible in the way we conduct business.   If interested in our services feel free to reach out to us, so we can share with you some of our service offering demonstrations and see if we can do POC or POV for you.  
We work with financial organizations as our core expertise, but also service other types of industries ranging from real-estate, manufacturing, professional LLCs, accounting firms, health/medical dental, entertainment industries and other types of industries. 
Desktop Virtualization  configuration  can be very challenging and almost impossible to configure without advanced knowledge in security and networking protocols.  
Our company makes the complexity fade away. 
Picking DBA Binary Fusion subsidary of Alpha Technologies as your company's IT resource for advanced type of networking integration will help you save tons of time, doing it yourself.
Reach out to us, let us know your use case, we can get together analyze what you have, and provide your recommendation on how to move forward with what tool, what to monitor, how to monitor it and can also provide you presentation for some of the services that we did for our other customers in the field of Machine Learning, Certificate LifeCycle Management, Network Monitoring and beyond.
If interested send an email to 

[email protected]

 and simply let us know your name, company name, phone number, and what you are looking for, or alternatively contact us by the phone number shown on the top right corner of this website.
Thank You for taking your time to read about our Logic Monitoring Services and Solution Integration services.
Industries We Service and help customers integrate Multi Factor Solutions
VPN Firewall and Router Vendors we can connect to AWS
Problems and AWS VPN Tunneling Solutions
Other Integration and IT Services Similar to AWS VPN Tunneling Solutions that we offer
What Other Customers Say about our Services